Linea's DeFi Voyage will bring everyone—from web3 newcomers to seasoned investors—an intuitive, immersive, and educational DeFi experience. We are teaming up with Intract and MetaMask Learn to deliver a six-week Voyage that will cover all sectors of DeFi.
What is Linea's DeFi Voyage?
The Linea DeFi Voyage is designed to give all levels of web3 users an opportunity to explore one of the most fundamental web3 use cases, decentralized finance (DeFi), in an intuitive, immersive, and educational manner.
For newcomers, this is your chance to finally dive into web3 with a fully-curated walkthrough experience. Together with MetaMask Learn, we integrate lessons with core web3 and DeFi concepts, and also link to useful simulations that you can try before jumping into the DeFi Voyage's tasks. More on this later.
Already a superuser? Not a problem. The DeFi Voyage is structured in a way that allows you to dive straight into the tasks and explore a variety of opportunities on decentralized applications (dapps) across every DeFi sector. We hope that you will discover a new favorite.
To deliver the DeFi Voyage, Linea has partnered with Intract, a web3 quest platform that helps users connect with and explore web3 communities. Intract's phenomenal team has helped us customize and build out this unique education-focused Voyage experience, and we cannot wait for all of you to try it!
How will the DeFi Voyage work?
6 weeks. 10 waves. 10 core tasks.
Across the six weeks, Linea's DeFi Voyage will cover everything from wallets, bridging, swaps, lending, borrowing, liquidity provision, yield farming, and more.
To keep things simple for Voyagers, each wave will entail a single core task. Beyond the core task, users will have the option to do bonus tasks. Upon completing each task, users will be rewarded with Linea Voyage XP, non-transferrable soulbound tokens meant to recognize a user's contribution to the Linea ecosystem. While XP will be weighted towards each wave's core task, execution of bonus tasks will make users eligible to collect additional XP.
Bonus tasks may entail exploring more activities within that wave's DeFi sector or engaging with diverse dapps that offer services similar to the core task. Users will be able to choose from over 80 dapps to engage with.
Also, we want to keep the focus on education and exploration of L2 DeFi, so the DeFi Voyage will not employ any tiering system for Voyagers. This means there's no requirement to do all of the waves. Whether you're already familiar with one wave's activity, or you're joining the Voyage at a later time, Voyagers will not be penalized for missing or choosing not to do the core tasks in every wave.
Intuitive, immersive, and educational.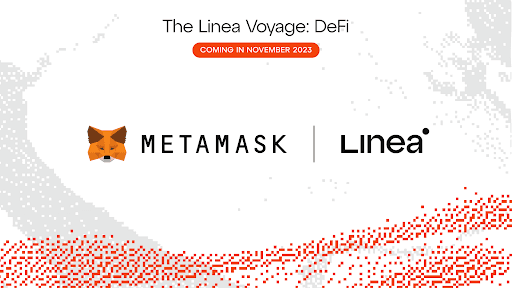 Before jumping into each task, Voyagers will have the opportunity to learn about some of the core principles and risks behind that wave's DeFi activity. This is where MetaMask Learn comes in. We've incorporated carefully curated educational content alongside links to transaction simulations because it is imperative that each user learn how to properly and safely interact with diverse web3 dapps and also about the potential risks associated with different web3 activities.
In addition to core concepts and simulations, Voyagers are also provided with a step-by-step task instruction guide, as well as task walkthrough videos from Linea's partner dapps. This experience was designed to ensure that both newcomers and superusers alike are prepared to explore and engage with all of Linea's DeFi ecosystem.
Outside of the content within the Voyage interface on Intract, Linea will also provide Voyagers with the following:
Social posts introducing Linea's partner DeFi dapps that will be involved in each wave

On Tuesdays, we will host weekly Twitter Spaces, where we will recap the last or active wave, share thrilling wave metrics, introduce the next wave, and feature some of the partner dapps you will interact with across the DeFi Voyage.

On Thursdays we will host Discord AMAs, where we will dedicate half the time to the last or active wave, and the other half to the upcoming wave. Keep an eye out for the question forms which will be released ahead of time on Discord!

Blog posts giving background educational content about the active wave—e.g. For bridging, we will walk through what it is, what the potential risks are, and how to approach the activity safely.

Partner blogs that will allow you to deep dive into some of the dapps you will be interacting with across the DeFi Voyage

Regular social coverage with wave fun facts and Voyage metrics

Regular access to our customer success team via Discord
We are creating these assets and opportunities for more engagement with the team to ensure your experience on Linea's DeFi Voyage will be as smooth as possible. But there is no need to get overwhelmed: There is no obligation to read and attend everything. All of the task information will stay within the Voyage interface on Intract. So if you prefer to just connect on wave activation day and get on with it, you can.
You choose the adventure you want on this Voyage.
MetaMask takes the spotlight for the first wave of the DeFi Voyage.
For the core task, Voyagers will use MetaMask's bridge function to bridge ETH on to Linea—preparing you for the subsequent waves of the DeFi Voyage.
For the bonus task, Voyagers will use MetaMask's swap function to swap tokens on Linea.
See full instructions, the step-by-step guide, and more walkthrough videos when the DeFi Voyage launches tomorrow on Intract.
Crypto Wallets and Voyage XP
At this point, we want to remind Voyagers that Voyage XP are NON-TRANSFERABLE. This means that once XP are collected in a wallet, they cannot be moved. It is therefore crucial to accumulate Voyage XP in one wallet throughout the Linea Voyage to accurately measure your contribution to the growth of the Linea network.
Voyage XP on Intract
While the DeFi Voyage will be hosted on Intract, Voyagers must note that the XP shown on the Intract platform is a representation of Voyage XP. These XP collected by users and shown on Intract will be available for users to claim only after they successfully execute the Proof of Humanity (PoH) attestation through Verax.
The mechanism to prove your humanity on Verax is not yet open. This function will be activated during the third wave of the DeFi Voyage. Users will then be able to carry out the PoH process through any of their preferred identity partners. After successful presentation of PoH, Voyage XP may be claimed. No further action will be required from users.
Managing Your Wallets
Voyage XP can only be minted on wallets that can prove human ownership. This is typically done by examining your wallet's historical data across multiple chains. If you engage with the Linea Voyage using a new wallet, distinguishing your activity from that of a bot will be challenging, making Proof of Humanity more complex.
We recommend designating your main wallet as the "primary wallet" for the Linea Voyage, and accumulating your Voyage XP there. This approach simplifies the Proof of Humanity process and offers the best user experience.
We do understand that using your primary wallet may not always be practical or secure. Therefore, we developed a way to bind multiple wallets on linea.build.
By November 14th, on our Voyage webpage, you will be able to set up your primary wallet, which must pass Proof of Humanity through the Verax registry, and designate a series of 'secondary wallets'. These are alternative wallets that you may use across activations. Once the wallets are bound, any XP intended for your secondary wallets will be minted on your primary wallet.
Before binding a wallet however, it is important to note that binding is an irreversible action. Once a secondary wallet is bound, XP will automatically accumulate in your primary wallet and your secondary wallet moving forward will not collect any XP. So consider carefully before binding!
Once the wallets are bound, Voyagers are free to engage with activations using any wallet, including embedded wallets.
The Voyage Launches Tomorrow!
We are always thinking of new ways for our community to engage with the L2 ecosystem in a safe, fun, and productive manner. Linea's DeFi Voyage is a step in that direction.
Follow us on X and Lens for total Voyage coverage, join our Discord community to engage with other voyagers, and share your feedback with us!
As always we are eager to listen and learn, for it is together that we become stronger.
See you on-chain tomorrow!
Bon Voyage!
Disclaimer
The Linea Protocol, the Linea Interface, and the Linea Protocol's native Ethereum bridge are offerings of Consensys Software Inc., and your use of these offerings is governed by our terms of service.