The main aim of this campaign is to bring in more web2 users on to Linea, and into the overall web3 ecosystem.
Gm Linea fam,
We hope you are having as much fun with the Linea Entertainment Festival as we had putting it together for you. So far, users have completed over 290,000 quests as part of the Festival.
In addition, Linea organized two in-real-life events in collaboration with DeGame and Particle Network. The first was a gaming mixer that attracted more than 300 attendees at the Korea Blockchain Week and provided a platform for leaders in the gaming industry, experts, developers, and enthusiasts in Korea to engage in open and meaningful discussions.
The second event was called Empowering the Web3 Gaming Ecosystem and was organized at Token2049 in Singapore. With over 300 participants, this event featured speeches and panel discussions that brought together top-tier projects from the gaming industry. It aimed to unveil the Linea gaming ecosystem to industry developers and enthusiasts while sharing their insightful perspectives on the future of gaming.
Now, we are at the beginning of the third sub-campaign of the Linea Entertainment Festival, the Linea X MyShell sub-campaign. Read on to know more about how you can participate and earn more rewards!
What is the Linea X MyShell Sub-Campaign?
The sub-campaign is called the Linea Season, and starts today, i.e. September 18, 2023. It will go on for two weeks, until September 30, 2023. The main aim of this sub-campaign is to bring in more web2 users on to Linea, and into the overall web3 ecosystem.
As part of the Linea Season sub-campaign, users will be able to take part in interactive activities related to Linea on the MyShell platform. All web2 users participating in the sub-campaign will automatically be assigned a custodian wallet, and will be guided on how to participate in any on-chain activities. You can also find video tutorials on MyShell's twitter to help users have a seamless experience.
Tasks in this sub-campaign will range from daily conversations, trying out exclusive features on MyShell, inviting friends to the sub-campaign, to community engagement, and completing on-chain transaction tasks. You can choose to participate based on your interests and earn rewards after completion.
Every user will receive 200 Battery Points at the start of the campaign, while all Linea users will receive 500 Battery Points. All Linea users can receive the additional 300 Battery Points using the invitation code "LineaX". Think of Battery Points as the energy that will be consumed when users perform the campaign tasks. For example, a user spends two Battery Points to chat with Samantha, and the remaining Battery Points can be seen in the yellow bar below.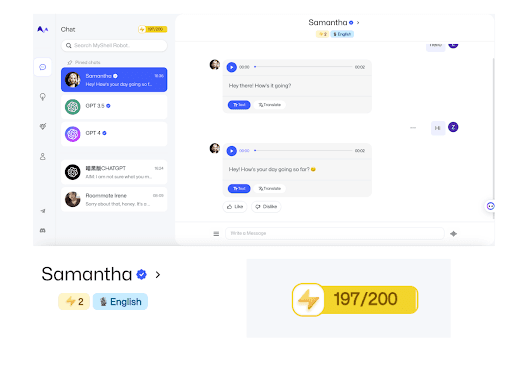 Consuming these battery points will allow you to earn Shell points. You will also receive Shell points for performing engagement activities such as completing a set number of conversations with bots, and joining the MyShell Discord. You can redeem Shell points into some gifts, such as gift cards to use GPT-4 for free. Most importantly, these Shell Points are the only indicator to determine your seasonal ranking. You can view your Shell Point ranking for the Linea season at the leaderboard, which is updated in real time.
Users that finish in the top 1% on the leaderboard will be eligible to redeem the special reward of this season, the Linea ETH Reward (value equals to $50), which can be used to interact with other projects launched on Linea ecosystem.
Users that finish in the top 10% will be eligible to redeem MyShell Linea Season Badges, which can be redeemed into NFTs in the future. The holders of these NFTs will enjoy more privileges and benefits and are also a symbol of honor in the community.
Plead note that the number of Linea ETH reward and season badges are limited to 200 and 500, respectively. Do not delay in claiming your rewards if you are eligible since we give out the rewards on a first come, first serve.
MyShell will announce the final rankings according to the leaderboard on September 28, 2023. The redemption window will start on September 29, 2023 and close on September 30, 2023.
Top ranking users will also receive LineaETH worth $50 that can be used to perform transactions on the network, or for further engagement with other decentralized applications (dapps) on Linea.
For details on all the tasks that will be a part of the MyShell campaign, you can read here. For more information about this campaign, you can read frequently asked questions here.
Participate in the Linea Entertainment Festival
The Linea Entertainment Festival is a social and gaming extravaganza aimed at exploring gaming, a different form of content creation on L2s. It is a means to expand Linea's gaming ecosystem, and promote gaming community engagement on the network.
To deliver the exciting tasks in the Entertainment Festival, Linea has partnered with leading players in the gaming sector – DeGame, the world's largest NFT gaming aggregator; Particle Network, a full-stack, data-driven, and composable web3 data and development platform; Project 12, a reputable gaming platform and game creator ecosystem; and MyShell, an innovative AI-powered chatbot platform. The coming together of these industry leaders will create a powerful network that gaming enthusiasts and developers can leverage for innovation.
For more details on the Festival, and how to participate, please read here.
For all the latest news on the Entertainment Festival, and everything Linea, you can connect with us on Mirror, Twitter, and Lens. You can also check out our developer portal and technical documentation to get started on the L2 network.